2017 sees the return of The New Mullet's Night Show featuring all your familiar favourite faces plus special guests!
Toronto's very own cult celebrity zombie clown is back from the dead again to bring you his live monthly talk show! Debuting in 2011, the hit show has showcased some of Toronto's most talented clowns, comedians, artists, and oddballs.
Hosted by Jean-Paul Mullét and Robin Archer
Musical direction by Matt Gerber
**SPECIAL GUESTS TBA**

Featuring Mullet's Make-a-Players: Ted Ludzik, Hilary June Hart, Christopher L. Hedrick, and Eliza Beth Ana Cleto
With William the Intern
Technical direction by Gord Oxley
Head writer: Ron Fromstein
Produced by Allan Turner
WHEN:
Thursday, February 9, 2017
Doors: 8:00pm, **SPECIAL PRE-SHOW STARTS 8:45PM**
WHERE:
The Social Capital Theatre
154 Danforth Ave, Toronto
TICKETS:
$12 general admission
$8 students and arts workers
Production History:
The Social Capital Theatre, Toronto - 2011-PRESENT!
The Rivoli, Toronto - 2014
The People's Improv Theatre, NYC - 2012
Fotoz by FeeGunn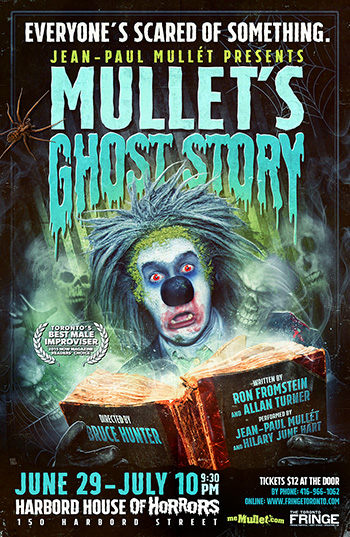 Coming this summer to the Toronto Fringe Festival...
Jean-Paul Mullét presents
MULLET'S GHOST STORY

A haunting tale about the dead, as told by the undead, for you, the living. Zombie clown Jean-Paul Mullét wants nothing more than to never be alone. Be careful what you wish for.
When Mullet reads from a forbidden book, he opens a door that's not easy to close. Just because he's the walking dead doesn't mean there are no skeletons in Mullet's closet. Everyone's scared of something.
June 29 - July 10, 2016
Doors: Come for dinner & drinks! Show: 9:30pm
Licensed! Dinner Menu! Air Conditioned!
Please note that there is absolutely no latecomer seating.
Location:
Harbord House
150 Harbord Street, 2nd Floor, Toronto
(between Spadina and Bathurst)
Tickets:
$12 at the door
By phone: 416-966-1062
Online: COMING SOON!
Poster by Kurt Firla / Foto by Jeremy Gilbert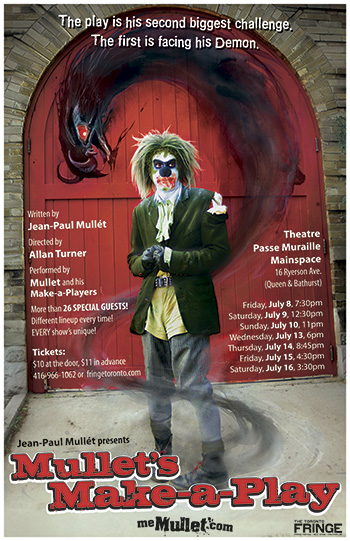 Mullet the zombie clown stages the most ambitious show of his career, filled with award-winning comedians, musicians, and more! Yet as monumental an undertaking as this is, it is his SECOND biggest challenge. The FIRST is facing his inner Demon.

While this Demon may keep Mullet's undead and decaying body functioning, it is Mullet's overwhelming desire to make people laugh and love him that keeps him alive. But as his show falls apart, so does his confidence and constitution, allowing the Demon to take control, dooming him to doubt and failure. The time has come for Mullet to face his fears and take a stand in the fight for his soul.

Written by Jean-Paul Mullét and Allan Turner
With additional material by Jeff Orchard and Jorge Mijangos

Performed by Jean-Paul Mullét, Andrea Brown, and Jeff Orchard

With OVER 40 SPECIAL GUESTS!

Guest Acts:
Alissa Vox Raw, Bruce Hunter, Friskey Brown & Gene Hardy, Kate Dunbar, Megan Fraser, and Ted Ludzik

Mullet's Make-a-Players:
Albert Howell, Alex Schroen, Ashley Botting, Bruce Hunter, Carmine Lucarelli, Dave Pearce, Gene Abella, Isaac Kessler, James Gangl, Josh Holliday, Ken Hall, Kerry Griffin, Kevin Matviw, Kris Siddiqi, Lindsay Grant, Marcel St. Pierre, Paul Bates, Peter Prystanski, Sandy Jobin-Bevans, and Thomas MacKay


Element Choir:
Adriana Monti, Alizon Sharun, Amy Coulterman, Felicity Williams, Jane Wells, Jocelyn Barth, Katt Emerald, Margaret Dinsdale, Mario Lourenço, Nadine Bariteau, Natalie Boustead, Sienna Dahlen, Steve Schwabl, Suzanne Farkas, and Tyson Kerr

Directed by Allan Turner
Dramaturgy by Ted Ludzik
Stage Manager: Andrea Ouellette
Sound Technicians: Brendan Albert and Alissa Klug
Choreography: Nancy Hitzig
Props: Hector Turner, Kameron Gates, Pauline Williams, and Sonya Padovani


Production History:

Toronto Fringe Festival - 2011

Foto by FeeGunn / Art by Kameron Gates & Jorge Mijangos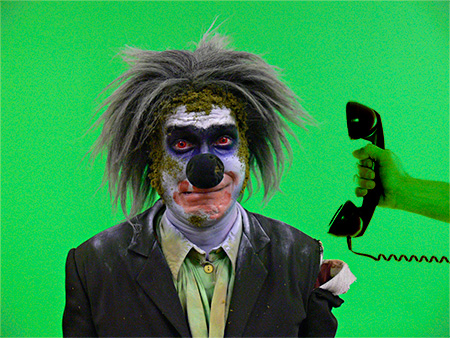 With his comedy career in the crapper, zombie clown Mullet gets work in a call centre answering phones. One call is a cry for help from a man on the verge of suicide and it's up to Mullet to save him.
But can a man learn the value of life from a clown who's already died?
Written by Allan Turner
With help from Jeff Kearns, Darren Joy, and Chris Gibbs

Performed by Jean-Paul Mullét and Darren Joy

Directed by Jeff Kearns
Stage Manager: Becky Gold
Production History:
Toronto Festival of Clowns - 2015